Overview
Below are the new features, updates and bug fixes for version 3.4.1.  This version was released on October 2nd, 2013.
Home Page
New Blue Blocks Wide Skin (3.4.1.0)
This new release includes a new skin that is wider and also left justified. This skin works well for wider reports and larger monitors.
Scheduler Changes
Added New Hourly Option for Start and End Times (3.4.1.0)
Added a new option to the scheduler to allow hourly jobs to have a start and end time. This is useful for hourly jobs that you only want to run during business hours.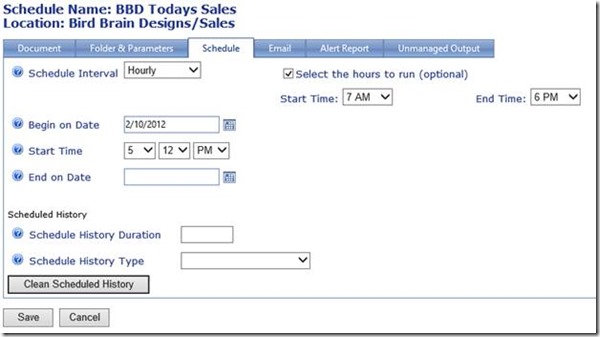 Added New Option to Use Roles for the Email Addresses (3.4.1.0)
A new option has been added to the Email tab that will allow the scheduled job to get the email address from the users that belong to the role used to run the scheduled job. This saves the administrator the task of maintaining the list of email addresses within the scheduled job. You can still enter email addresses in the To field and they will also be emailed the report.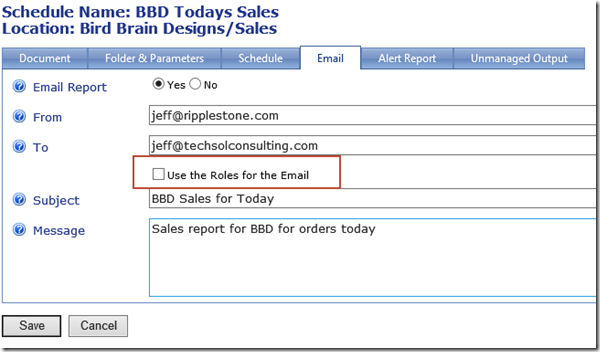 Added New Active Flag (3.4.1.0)
On the Edit Schedule page, a new active flag has been added to make it easy to turn on or off a scheduled job while keeping all the data. This replaces the old method of setting the interval to Inactive.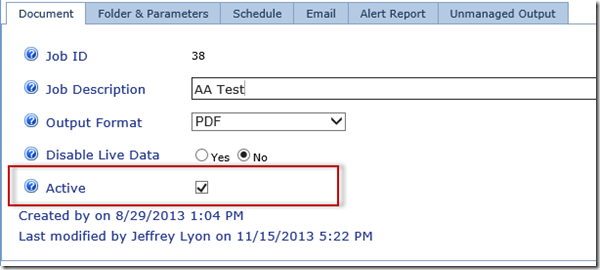 Edit Folders Page
Added New Validations (3.4.1.0)
On the Edit Folders page, new validations have been added.


Moving Folders – You cannot move the folder to the same folder


The Folder Name will have any spaces removed before and after the name


Folder Name with special characters are not allowed / ? < > \ : * | "


Cannot add or move folders in the system Shared folder


Cannot delete the system Shared folder


Bug Fixes
Fixed an Issue with a Report Parameter in the Scheduler (3.4.1.0)
There was an issue when the scheduler attempted to run a report that had a null value for the parameter.
Fixed an Issue with the Publish a Document link (3.4.1.0)
There was a problem with the link when the user was logged in as a Publish role and they tried to link on the Publish a New Document link.
Fixed a problem when updating the name of the Home node (3.4.1.0)
There was a problem when an Administrator would try to change the name of the Home node on the home page.